Clark Pest Control Hosts FPA Annual Meeting
Nov 20, 2012, 14:39 PM by User Not Found
Clark Pest Control Hosts FPA Annual Meeting.
Food Protection Alliance Annual Meeting at Clark Pest Control
The pest control firm, founding member of FPA, hosted the organization's annual meeting in October.
Source: PCT Pest Control Technology
www.pctonline.com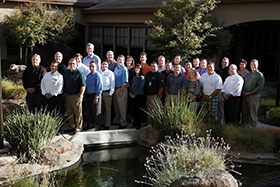 LODI, Calif. - In October, members of the Food Protection Alliance (FPA) gathered at Clark Pest Control for its annual meeting.
Clark Pest Control, Lodi, Calif., is a founding member of the Food Protection Alliance and graciously hosted the members as they introduced new members to the team, reviewed industry standards, recapped 2012 and prepared for 2013.
Food Protection Alliance is a group of regional pest management and fumigation companies that provide nationwide service to North America's food industry. Learn more at fpalliance.com.