Clark Pest Control Bug Zoo to Attend Insect Fest 2013
Jan 10, 2013, 14:39 PM by User Not Found
Clark Pest Control's own Bug Zoo will be attending the World of Wonders Insect Fest 2013 in Lodi CA.
The Clark Pest Control's very own Bug Zoo will be attending the 2013 Insect Fest at the World of Wonders Science Museum in Lodi, CA.
For the last 2 years the Clark Pest Control Bug Zoo has attended the fun and exciting event for kids of all ages, now going on our third year. Bug Zoo Keepers Fred Speer and Patty Smith will be showing off their creepy crawlers, handling demonstrations and more!
Making her third appearance, Luna, our star of the zoo, the Chaco Golden Knee Tarantula will be available for handling as well as Tiber, the Emperor Scorpion and Madagascar Hissing Cockroaches.
Other insects on display will include; Camel Spider, Brazillian Black Tarantula, Goliath Bird Eater Tarantula, Giant Vietnameese Centiped, Tailess Whip Scorpions and even a Whip Scorpion.
Make sure to save the date!
Saturday January 26th from 10am to 3pm
2 North Sacramento Street
Lodi, CA
95240
Official website
www.wowsciencemuseum.com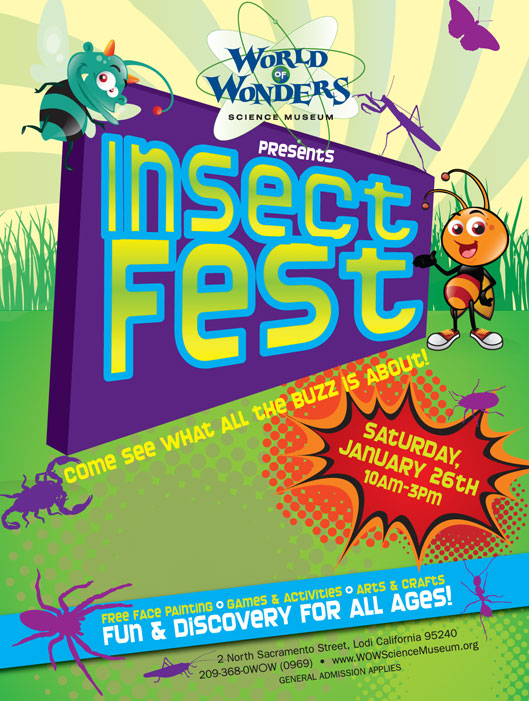 Make sure to follow us on Twitter as we will be giving additional information about this event and Tweeting live on the day of the event!

twitter.com/ClarkPest

twitter.com/BugZookeeper