Need Termite Fumigation?

When termites are a problem, fumigating may be called for. Clark Pest Control offers termite fumigation that is safer and more affordable than you might think. Fill out our service request form and a representative will contact you, or call our toll-free number above for even faster help.
Fast ... friendly ... reliable.

Let the Clark Pest Control experts help you get rid of your termite problems – satisfaction guaranteed.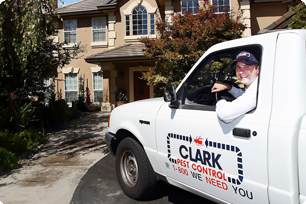 Family-Owned Pest Control Since 1950
"Within hours of my service call, a technician was at my residence resolving my pest problem. I want to thank the Clark Pest service technicians for their professionalism and customer service. Just like their commercials, Clark Pest Control is reliable and dependable."
—Mrs. C. Johns
*Free Inspection excludes real estate transactions, which may be subject to a fee.